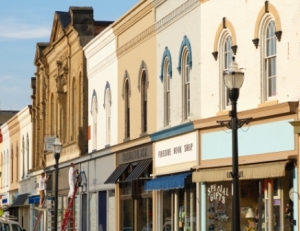 High Street vs Online Estate Agency
(Posted on 04/05/16)
Estate agency has changed over the last 15 years like many other industries, the internet has filtered into our day-to-day lives and changed the way people search for properties, many using websites such as Rightmove and Zoopla. Consumers are striving to get value for money, but still want a high quality service. If you like the idea of saving the money using an online agent, but want the security and presence of a high street agent, there is an answer....
The battle between online and high street estate agents is increasing, but here at Ashton & Grosvenor we are here to give the best of both worlds. A high street service with online prices! You know what you will be paying from the outset, comparable to 'Purple Bricks', 'YOPA', 'House Simple' and the likes (but without the hidden extras, nobody likes them). We will market your property on all the leading websites, with our database of potential buyers and also highlight your property in our shop window. Professional photography will make sure your property stands out from the rest and colour brochure handouts enable your potential purchasers to have your property details at their fingertips. We are also open 7 days a week with accompanied viewings up to 7pm weeknights, ensuring there are viewing slots available for all those working 9 to 5, as we all know there is nothing more infuriating than waiting and waiting to see your possible dream house!
Selling or buying a house is highly stressful and choosing the right agent to help the process go as smoothly as possible is key. Once the sale price is agreed, our work does not stop there. We will progress the sale until completion whether it's chasing solicitors (it normally is!), ensuring surveyors get access ASAP or progressing things from the bottom of the chain we will ensure that we get through to completion as quickly as possible.
Interested in selling your house fast and seeing what you can save ££££ using Ashton & Grosvenor call us now on 01244 318115 or click http://www.ashtonandgrosvenor.co.uk/selling/