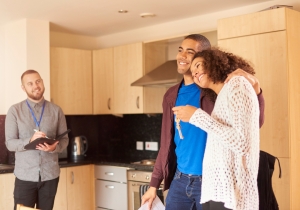 Happy Tenants Make Life Easier For Landlords
(Posted on 05/08/21)
While it has been a hard year, happiness is still one of the most important things we should strive for, and this will always be the case. When it comes to the rental market, landlords are advised top ensure their tenants are as happy as possible.
At Ashton & Grosvenor, we agree with this, and we think there is a lot to be said for creating a happy and healthy relationship between landlords and tenants. We do our best to assist local landlords, and if you are looking for guidance or help in the local rental market, please get in touch and we will be happy to assist you.
There is consistency in rental market
Data taken from the English Housing Survey for 2019/20 suggests 83% of private tenants were satisfied with their current rental accommodation. It is correct to say this has been the case for the past decade, and on the whole, it looks as though private tenants have a fine relationship with landlords.
The same cannot be said for social tenants though, and there has been a drop-off in the number who are satisfied with their rental accommodation.
In 2018/19, 81% said they were happy with their rental accommodation but the new figure suggests only 78% are happy with their accommodation.
Repair and maintenance work is crucial
75% of private tenants said they were happy with the way landlords undertake repair and maintenance work at their rental accommodation. Again, this is believed to be the highest figure in around a decade. We all know repair and maintenance work is absolutely vital in the letting sector, and it is something landlords should prioritise. If tenants are happy with the service they receive here, it is something that the letting sector should be pleased with.
66% of social tenants said they were happy with the way landlords carried out their repair and maintenance work. This represents a drop of 1% compared to the previous figures. With two-thirds of social tenants happy with the standard of repair work, this is positive news, but there is still a gap between the happiness felt by private tenants and social tenants.
National Residential Landlords Association chief executive Ben Beadle says: "The NRLA is mindful of the challenges the private rented sector is confronted with and remains firmly committed to tackling them in a spirit of co-operation between tenants, landlords and government. However, these figures demonstrate that the vast majority of private renters are satisfied with their accommodation and the service being provided by their landlord. This positive feedback is representative of tenants' experiences across the private rented sector, and it is through this lens that future changes need to be seen."
We offer a range of property and letting services to landlords in Chester, including tailored options which ensure you receive the best support at all times. If you would like to arrange an appointment to help you negotiate the local property or buy-to-let market, please contact Ashton & Grosvenor today by calling us on 01244 318 115 or emailing us at hello@ashtonandgrosvenor.co.uk.